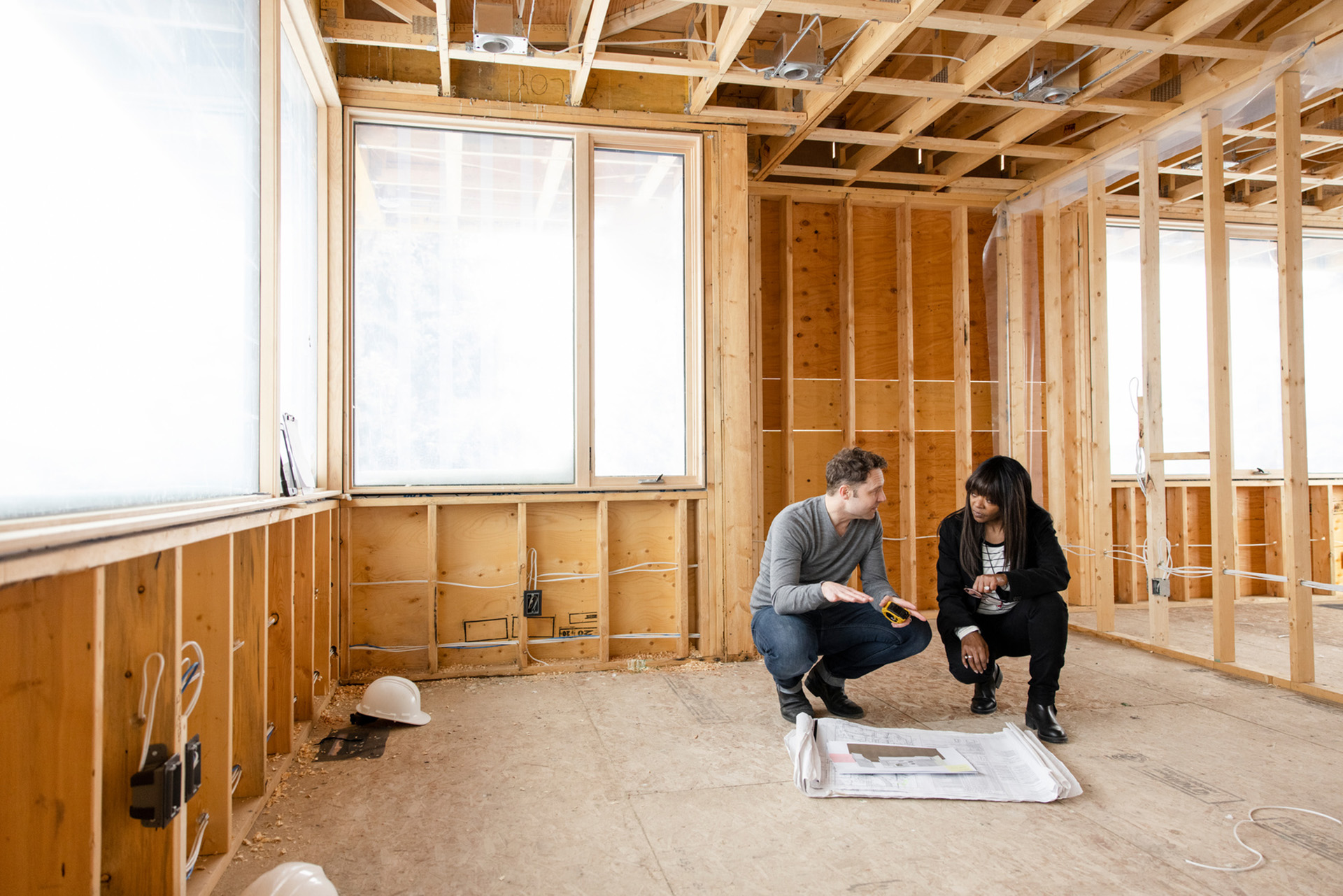 The cost of materials has skyrocketed in recent years with supply chain shocks and inflation. Builders Purchasing Group (BPG) is committed to advocating for the builders, contractors and subcontractors in our community by working on their behalf to negotiate better pricing, programs and discounts for our members.
By working with suppliers within the context of a Group Purchasing Organization (GPO), we can create partnerships that benefit you as you purchase materials for your jobs.
Contact BPG today to find out if there is an opportunity for you to save!
Cost Savings through Purchasing Power
The power of group purchasing has been around for decades, delivering on the ability for like-minded industry professionals to pool their purchasing power and drive significant cost savings and improved service levels.
By utilizing the discounts, pricing and programs from BPG, it's easy to see that just a small amount of participation yields substantial results quickly.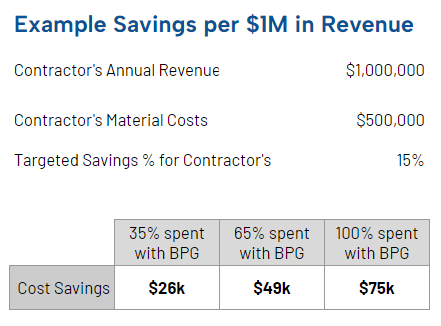 CABINETS & HARDWARE
RTA (Ready to Assemble), Stock, Semi-Custom, Finish Trim Lumber, Hardware
DRYWALL
Drywall Compound, Drywall Supplies, Ceiling Systems & Materials
EXTERIORS
Siding, Brick, Vinyl, Wood, Cement Board, LP, Gutters, Downspouts, Trim, Soffits
FOUNDATION & CONCRETE
Basement Foundation, Concrete Slab, Poured, Precast, Masonry, Stone
INTERIOR TRIM
Trim, Moulding, Millwork, Cabinets, Closet Systems
LIGHTING
Ceiling, Wall, Lamp, Fans, Decor
OFFICE SUPPLIES & ADMINISTRATION
Office supplies, paper, printer, CAD printing, shipping, cell phone service
Plumbing
Kitchen, Bath, Fixtures, Water Heaters, Supplies
TOOLS & BUILDING SUPPLIES
Air Compressors, Anchors & Fasteners, Power Tools (Drills, Saws) Hand Tools, Nail Guns, Power Tool Accessories, Generators, Heaters, Ladders, Pressure Washers, Safety Products
COUNTERTOPS
Granite, Soapstone, Marble, Quartz, Solid Stone, Ceramic, Laminate, Butcher Block, Stainless, Concrete
ELECTRICAL
Cable, Conduit, Boxes, Networking, Supplies, Power Distribution, Fixtures
FLOORING
Carpet, Tile, Luxury Vinyl Plank, Wood, Laminate
HVAC
AC, Heaters, Stoves, Fireplaces, Chimney, Thermostats, Supplies
LANDSCAPING
Decking, Patio, Porches, Furniture, Stone Veneer, Landscape Stone, Cut Tile, Trees, Bushes, Flowers, Mulch
Lumber
Framing, Trusses, Finish Lumber, Interior Trim
PAINTING
Paint, Sealers, Stain, Finishes, Sprayers, Brushes, Rollers, Thinners & Additives, Tarps & Drop Clothes, Supplies
ROOFING
Asphalt Shingles, Metal, Clay, Wood, Solar, Ventilation, Underlayment
WINDOWS & DOORS
Patio Doors, Garage Doors, Window Treatments, Blinds, Shutters, Window Shades, Window Hardware
Many contractors struggle finding time to negotiate material costs for their projects, and do not command the purchasing power needed to unlock significant discounts from local vendors and national brands.
This is the exact issue that BPG seeks to address by negotiating benefits on your behalf.